Skyblock | Home
Hello, Skyblockians!
As you all may have noticed I've returned to my position full-time. You may have noticed the server has been receiving a lot of traffic recently due to that we've been working on a few new implementations along with the rank revamp which has been completed and implemented into the server.


Christmas is just around the corner and we decided to add the Advent Calendar into skyblock.xyz which can be obtained by using /adventcalendar or /calendar, this plugin allows you to receive random gifts each day all the way up to Christmas Eve!

Events currently on-going:
- Hunks Christmas Build Competition
​
Events upcoming:
- Pratai's Christmas Day Dropparty.
​

You all might have noticed lately that a lot of plug-ins have been changing and being removed this is due to them becoming outdated or including tons of bugs that aren't just a simple fix. Once the plug-ins have been fixed and fully functional we may then decide to re-add them into the server.

Alright so due to all the traffic coming through to the server we've decided to recruit 4 new members to the skyblock team! please don't forget to welcome them into the server!
- BriannaX
- Kimandre12
- ItzFar
- OnaxTheWarrior
​

Thats all for this update guys!
If we don't see you around on the server I hope you all have...
YO Merry Christmas everyone. I'm gonna get y'all into the season by hosting a build competition! All you have to do is build something Christmas themed (Christmas tree, gingerbread house, Santa...) take a screenshot and post it on the forums as a thread

here

. I will select a winner a week before Christmas. GO!!
Here is an example I built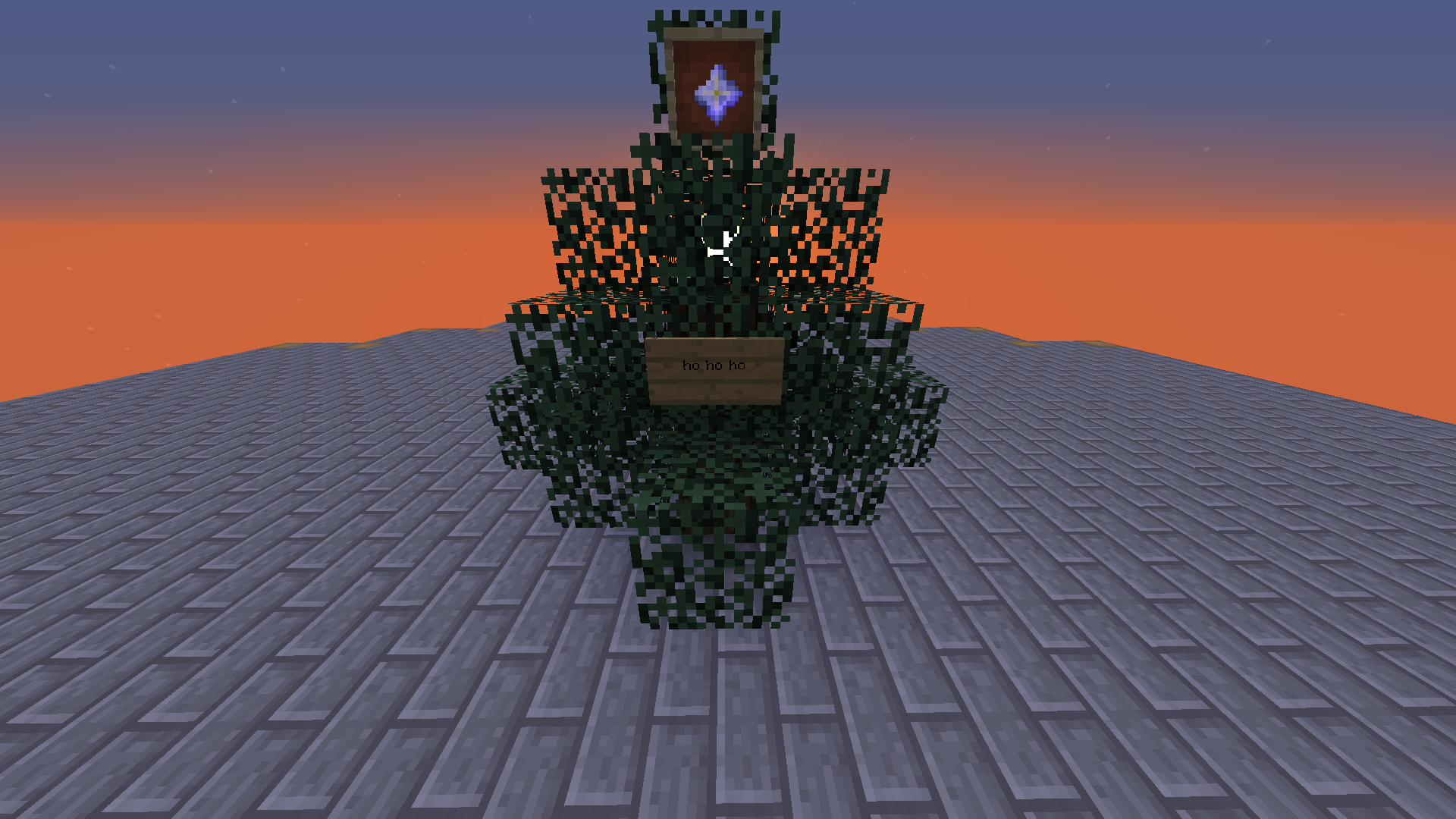 So recently I asked what kind of events you guys would want to have hosted here on the server. There were a lot of good ideas there, but in order of easiness, Spleef has come up first.

We are going to having free for all games starting at tomorrow Oct 29, at noon EST (12pm EST, 7pm in England). While I'm not quite sure what to expect, especially with the late notice, but I'm thinking that we will go for about an hour but that will be adjusted based on the participation at the time.

The shovels that will be needed will be provided, and you won't die if you lose. I think that's about it, if there's anything that I missed feel free to leave me a comment and I'll get it covered.

UPDATE: it has come to my attention that I did the conversion for the time in the UK incorrectly and the posted UK time is two hours late. You have my apologies.
Hi, a few of you have posted about some problems and false-positives relating to the anticheat system we use. I am currently tweaking the settings and trying to get rid of the annoying kicks when you're falsely flagged as a hacker. If you are warned by console, yet you aren't hacking, don't worry; leave your input below and let us know which potion effects you had and what you were doing and we'll try to fix it. Please be patient as we continue to tweak and test the system.
Hello the community of the XYZ!
As you probably already noticed, The server map and economy were reset.
This change was made to give new players a chance instead of couple players ruling the server economy along with a fresh map allowing all the duplicated items from the last map to be removed!

With the reset new changes have arrived:

1. Iron golems are not the ruling spawner type anymore, Cows & Slimes are! Leather will be selling for 1,900 per stack now, And slime balls 2,400 per stack.
2. New rank perks would be implemented soon, Expect them!
3. As for now, Redstone is almost fully disabled, It would be enabled as soon as possible.
4. We're aware of the "invaild movement" issue, And currently working on fixing it and other bugs aswell.
5. When starting an island, You'll be given many new types of islands themed by the Spongebob TV show.

WARNING: We are currently investigating the "Invalid Movement" issue along with some other issues, they will be fixed as soon as possible!

Thanks for understanding & have a great time playing on our server!
-The XYZ staff team-
Hello community,

I'd just like to inform you that yes I have been inactive lately due to my computer being broken along with me just starting college and attending EGX 2016 where I met some really nice people, but I'm now back from my little vacation and you will notice some new little updates.

Server
Alright you've probably also noticed a few little changes like colour schemes, the old colours became confusing and unnoticeable in the public chat so we've decided to give each different plugin a colour scheme which should now bring the messages attention to you. Due to the server economy going wild lately we have decided to up the donor kit's cool downs which should slow down the economy along with some new shop changes that will be noticeable over the next few weeks, here's a list of the new cool-downs:
Copper Kit - 1 day cool-down

Sapphire Kit - 2 day cool-down

Emerald Kit - 3 day cool-down

Ruby Kit - 4 day cool-down

Neon Kit - 5 day cool-down

Supreme Kit - 6 day cool-down
You also may have noticed MCMMO has been removed for now due to database & plugin issues, this may change but for now the server will remain without it.
Forums
I've been noticing on the forums lately that applications have been going wild if you are caught copying other applicants threads you will be instantly denied, this just shows us staff members that you're effortless and not willing to put in the time or effort towards the server. Another issue I've been seeing lately is reporting players in the wrong sections of the forums please use the "Reports" section and the report will...